The product is currently Out-of-Stock. Enter your email address below and we will notify you as soon as the product is available.
---
---
Complete Kit for Motorized Outdoor Blinds and Shutters Automation. This kit includes all the necessary components and a rain sensor to detect weather conditions. By using a relay configured in monostable mode, the system can automatically close the outdoor blind or shutter to protect the fixtures from rain. The device is equipped with two trimmers that allow you to customize the sensitivity of the sensor and the activation duration.
Soldering is required for assembly. Instructions are included and are available in English.
Circuit diagram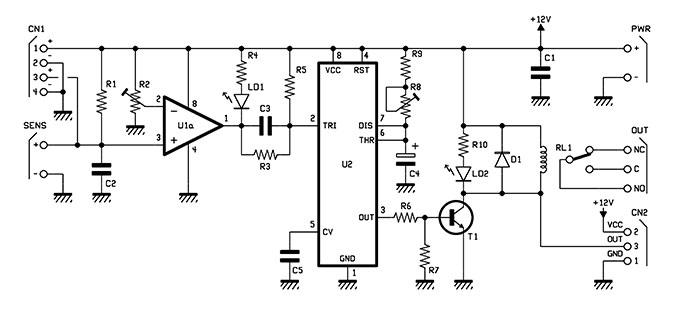 The board connected to the rain sensor
Technical specifications
Power supply voltage: 12 VDC
Relay operation: monostable
Pulse duration adjustment trimmer: from 0.11 to 11.1 seconds
Sensitivity adjustment trimmer
Relay rating: 10A 250VAC/30VDC
Dimensions: 69x49x18 mm
Download
Automation for motorized blinds and shutters - in DIY Kit