The product is currently Out-of-Stock. Enter your email address below and we will notify you as soon as the product is available.
---
---
Shield Arduino that can accept the modules from Simcom SIM900 (GSM/GPRS functionality) and SIM928 (functionality GSM / GPRS & GPS) and allows to make voice calls, send SMS or make connections to the Internet network.
The availability of new GSM/GPRS & GPS library, allow great flexibility. For example is possible reading a received text message or start a call and make all other operations performed by a standard mobile phone.
The board is compatible with Arduino Duemilanove, Arduino UNO, Arduino MEGA, etc. ... has two jacks for analog audio. With a microphone and a headset with 3.5 mm jack you can make a voice call. In case of receiving a call, through headphones, an alarm ring alerts you of incoming calls.
The shield includes a high capacitor dedicated to RTC (Real Time Clock) provided inside the SIM900 and SIM928. The capacitor allows to keep updated the time even in the absence of main power. The circuit operates with a supply voltage of 12 Vdc supplied directly from the Arduino board. The shield provides a connector for connecting an external battery lithium rechargeable only with SIM928: the module incorporates a dedicated charging circuit.
The required voltage for charging the battery is taken directly from the Arduino board(from pin Vin). The package does not include the GSM module, antenna and battery, sold separately. The board is designed to accommodate one of the following GSM modules (choice depends on your needs): FT900M, FT1178M and TDGGSM_900. The battery to be used must be a rechargeable battery with nominal voltage of 3.7 V.
Download the library of GSM/GPRS & GPS Shield.
The shield is in kit version and NOT include the GSM/GPRS or GSM/GPRS & GPS Breakboard.
See the related products and the following table.
---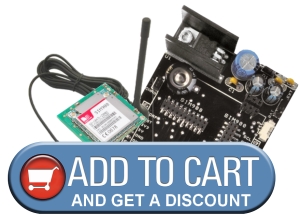 ---
---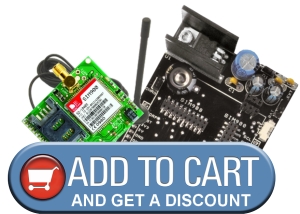 ---
More info in the blog open-electronics.org.
GSM/GPRS & GPS shield for Arduino
Brand: Futura Group Srl
Product Code: 8190-GSMGPRSSHIELDv2
Availability: In Stock
Price:

15.50€

---

5 or more 13.50€
10 or more 12.50€
Tags: gsmgprs gps shield for arduino, 8190-gsmgprsshieldv2, futura group srl, shield, arduino