The product is currently Out-of-Stock. Enter your email address below and we will notify you as soon as the product is available.
---
---
Maduino Zero SIM808 GPS Tracker is a board based on the Atmel SAMD21 32 bit microcontroller and on the GPS module GPRS / GSM SIM808. Programmable through the Arduino IDE, it can be used to create IOT (Internet of things) projects such as data acquisition, remote controls, GPS locators, etc. It has slots for micro SIM cards and micro SD cards; reset button for the SAMD21 microcontroller; micro USB connector for power supply and PC communication; 3.7 volt input for connecting a lithium polymer battery; 5 volt input for connecting a solar panel to recharge the lithium polymer battery; Status LED for power supply, battery charge, obtaining GPS position, status LED for the SIM808 and for the network status. The package includes the board already assembled and tested (except the strip connectors), the GSM and GPS antenna, the strip connectors (to be welded).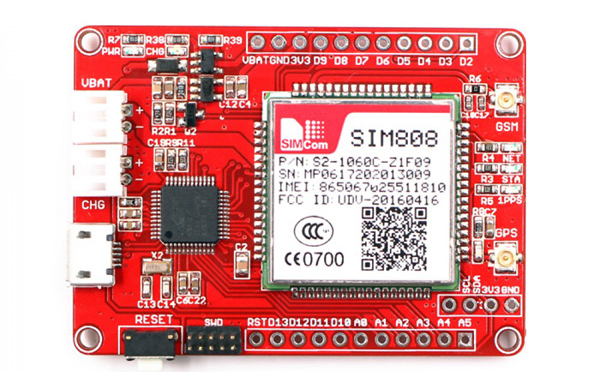 Features
Battery input voltage: 3.4 - 4.2 volts

Microcontroller: ATSAMD21G18, 32-Bit ARM Cortex M0 +

Clock: 48 MHz

Integrated power control system

AT command interface with "auto baud" detection

Quad-band: 850/900/1800/1900 MHz

Send and receive GPRS data (TCP / IP, HTTP, etc.)

Slot for Micro SIM Card

Slot for Micro SD Card

GPS L1 C / A code

Channels: 66

Tracking sensitivity: -165dBm

Acquisition sensitivity: -148dBm

Time-To-First-Fix
- Cold start: 32 seconds
- Hot start: 1 second
- Warm start: 5 seconds

Accuracy: about 2.5 meters

Interface: I2C / SPI / UART / 18 * GPIO

Arduino compatible

Operating temperature: from -40 ° C to + 85°C

Dimensions (mm): 55x40x8
Technical specifications
LED 1PPS: shown the GPS position

LED STA:

indicates the status of the SIM808 module

LED NET:

indicates the status of the SIM80 network

8

LED PWR:

Power status LED

LED CHG:

Battery charge status LED

VBAT:

3.7 volt input for connection of lithium polymer battery

CHG:

5 volt input to which a solar panel can be connected to recharge the lithium polymer battery

Micro USB connector:

5 volt power input and PC communication

IPX antenna connector GPS (included)

IPX connector for GPRS / GSM antenna (included)

Reset button: resets the microcontroller

SAMD21⑥
Download
FAQ
Which type of Arduino should be chosen for programming?
"Arduino Zero (native USB port)" must be chosen for the programming phase;
"Arduino Zero" is not present in the list of boards, how do you add it?
From the Arduino IDE card manager (Tools> Card> Card Manager) look for "Arduino Zero", then install "Arduino SAMD Boards (32-bits ARM Cortex-M0 +);
Why is the card recognized as "MKR1000"?
The card is based on SAMD21, therefore it could be recognized in this way if it is in programming mode. When the board is recognized by the IDE as MKR1000 it can be programmed as it is in programming mode, while if it will be recognized as "Arduino Zero" it means that it has already been programmed and the program is running, in which case programming is not allowed ;
How can you load the sketch after having already programmed the card? The board is recognized as "Arduino Zero" and cannot be programmed
To switch to programming mode, it is necessary to press the RESET key on the board 2 consecutive times. Once this is done, the board will be recognized as "MKR1000" by creating a different COM from the previous one, then choose the correct COM and select "Arduino Zero" as the board.
Maduino Zero SIM808 GSM/GPS Tracker
Tags: Maduino