The product is currently Out-of-Stock. Enter your email address below and we will notify you as soon as the product is available.
---
---
This low-charge warning buzzer alerts you when your vehicle's battery is low. It is designed for vehicles with 12V batteries, such as cars, campers, and vans. You can set it to sound when the voltage drops below a user-defined threshold using a trimmer that allows for adjustment.
Soldering is required for assembly. The kit comes with assembly instructions in English.
Circuit diagram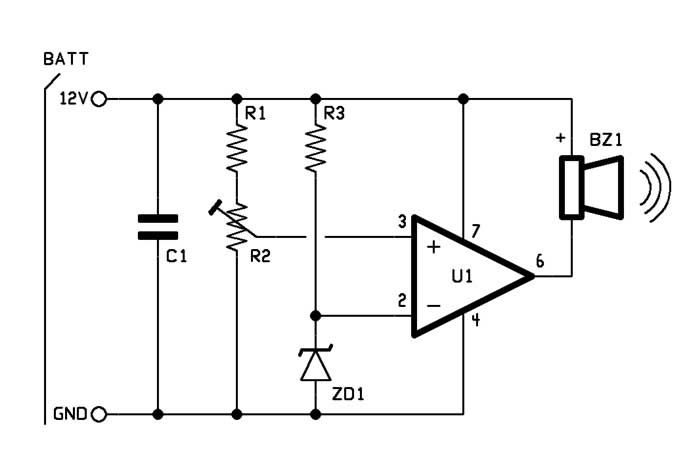 The device works as follows
It is possible to configure the device to emit a sound when the battery voltage drops below a certain voltage level. This can be accomplished by adjusting the onboard trimmer. In general, it is recommended to set the threshold so that it sounds when the voltage drops below 11.5V, indicating that the battery is nearly depleted.
Technical specifications
Supply Voltage: It must be connected to the car or camper battery with a voltage of 12V.
Current Consumption: 15 mA.
Alarm Voltage Threshold: Adjustable between 0V and 11.7V.
Audible Alert: The device emits an audible signal through a piezo buzzer.
Download
Low charge audible warning for 12V batteries – in DIY Kit