The product is currently Out-of-Stock. Enter your email address below and we will notify you as soon as the product is available.
---
---
This monitoring device is useful for keeping track of the liquid level (such as water) inside tanks, reservoirs, and containers. It features seven inputs (to connect electrodes) that can be positioned inside the tank. Each electrode is associated with a corresponding LED that lights up when the liquid reaches the desired level (i.e., the electrode).
The core of the device is the ULN2003 integrated circuit, a versatile and robust line driver. Each electrode is connected to an input of the ULN2003 through a contact that remains isolated until it is touched or submerged in the liquid. When this happens, the liquid acts as resistance, allowing current to flow from the base of the corresponding Darlington pair inside the ULN2003. This switching activates the corresponding output and lights up the associated LED, indicating the level reached.
The liquid level indicator for tanks or containers can display up to seven LEDs lit simultaneously, corresponding to the liquid levels reached. The maximum level can be considered as a reference point for the tank's maximum capacity.
Soldering is required for assembly. The kit comes with assembly instructions in English.
Circuit diagram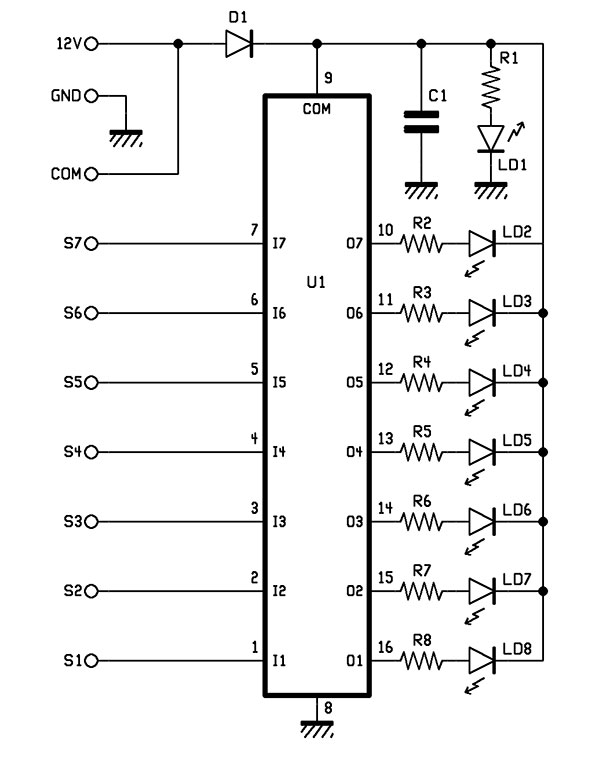 Wiring diagram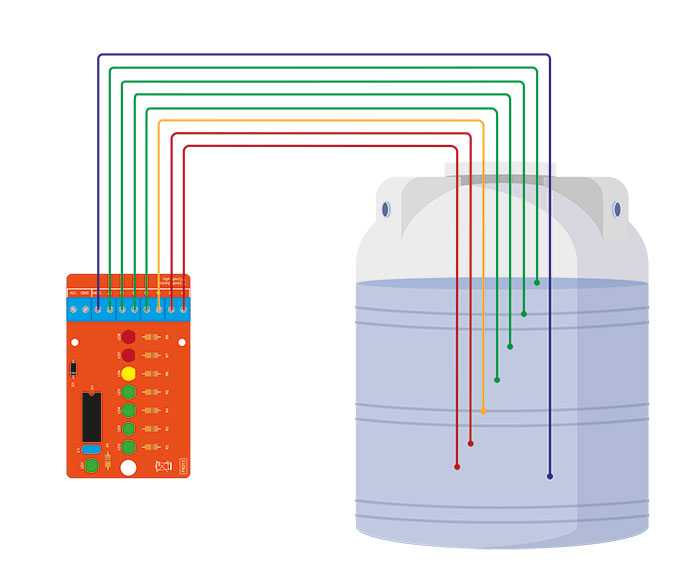 Pinning and internal schematic of the ULN2003
Technical specifications
Supply Voltage: 12-14V DC
Current Consumption: 200 mA
Number of Detectable Levels: 7
Dimensions (mm): 50x84x22
Download
Liquid level indicator for tanks - in DIY kit