The product is currently Out-of-Stock. Enter your email address below and we will notify you as soon as the product is available.
---
---
Digital pen multimeter that allows misuring AC and DC voltages up to 600 V, AC and DC currents up to 200 mA, capacitance and resistance values ​​up to 40 Mohm. It has backlight, LED flashlight, data-hold function, low battery indication, non-contact detection NCV (Non-contact Detection), automatic / manual range selection, automatic shutdown, diode test and electrical continuity. Power supply: 2 x 1.5 volt AAA batteries (not included).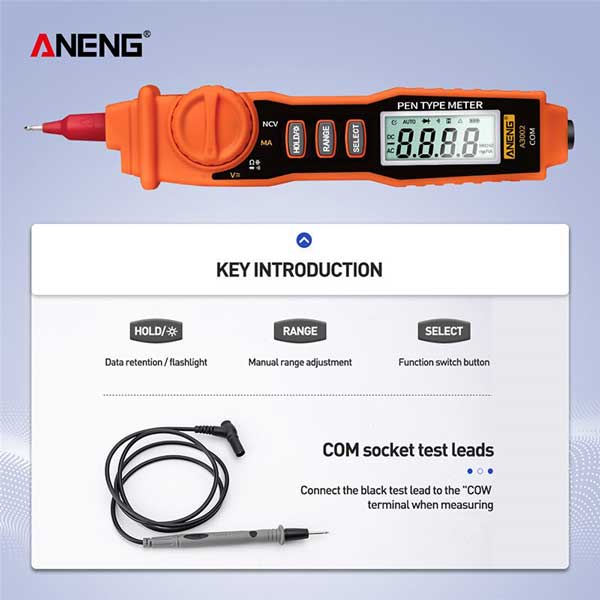 Features
Measuring AC/DC Voltage

Measuring resistance

Test diode

Buzzer continuity test

Measuring capacitance

Non-contact voltage detection

Alternating current
Technical Specifications
Material:ABS.

Color:Orange.

Pen Multimeter Size:134*39*26.6mm/5.27in*1.53in*1.04in.

Total line length: 90cm/35.4in.

Power Supply:2*AAA Battery(Not included).

DC Voltage:400mV/4V/40V/400V/600V

AC Voltage:4V/40V/400V/600V

Resistance(OMH):400/4k/40k/400k/4M/40M

Diode:4V

Buzzer on and off:400(OMH)

DC Current:40mA/200mA

AC Current:40mA/200mA

Capacitanc:4nF/40nF/400nF/4uF/40uF/400uF/4mF
Package included
1 * A3002 pen multimeter.

1 * Table line.

1 * User Instruction.
Digital Mutimeter - Pen type
Product Code: 1606-HR2784
Availability: In Stock