The product is currently Out-of-Stock. Enter your email address below and we will notify you as soon as the product is available.
---
---
Iono Pi RTC an extremely versatile Input/Output module, based on Raspberry Pi, with an RTC (Real Time Clock) clock, a series of communication interfaces able of communicating with industrial automation systems.
It consists of the Iono Pi board with RTC, the Raspberry Pi and the compatible "DIN-bar" container. It features several digital input and output lines, four outputs driven by power relays, and the standard interfaces typical of modern PLC systems such as 1-Wire and Wiegand buses. The features of the board are completed by a 2.5 A and 5 V power supply capable of accepting voltages between 9 and 28 volts in direct current at the input.
The field of application ranges from data acquisition to the control of automation systems, access control, hotel management solutions, environmental control and many others, both in the professional and residential fields, monitoring of technical alarms. Software development reflects the usual software development methods for Raspberry Pi, with the facilitation of an ever-increasing number of frame work and specific applications.
The objective of this product is to place itself as "middleware" in advanced automation applications, ie able to acquire data from automation systems, even existing ones, and to present them with an evolved and remotable Man-Machine interface. The ultimate goal of architectures of this type is the ability to control and interact remotely with automation systems.
The product includes: Iono Pi with RTC, Raspberry Pi 3B + and the "bar-DIN" compatible container.
External connections Iono Pi RTC
Iono Pi RTC has two "rows" of screw connectors. Above the four power outputs connected to the relays. These connectors accept cables up to a section of 2.5 mm². Below the row of 15 screw connectors, to which the supply voltage and all low power inputs / outputs are connected, to which cables with cross-sections between 0.5 and 1.5 mm² must be connected. The same indications are also shown on the module container. With appropriate slots on the container the external connectors of Raspberry Pi, Ethernet, USB, HDMI, Audio / Video and power supply can also be used.
Technical specifications
5V power supply with protection against overcurrents and polarity reversals. Input between 9 and 28 VCC. 1.1 A self-resetting fuse

5 V output (max. 50 mA) to supply, typically, external probes

RTC clock with lithium dioxide / manganese buffer battery

Two 0-30 V analog inputs on the external terminal block plus two 0-3 V inputs on an internal connector

Seven configurable digital I / O

External access to all USB ports and the Ethernet connector

Container suitable for installation on a DIN bar of the size of four modules, capable of holding, in addition to the Iono board, also a Raspberry Pi 3

Two LED indicators, one for power supply and the second controllable via GPIO

External access for the HDMI connector and the 3.5mm jack for audio and composite video

Power lines and I / O connections attested on screw connectors

Four power relays (6 A at 250 V)
Dimensions
Connection diagram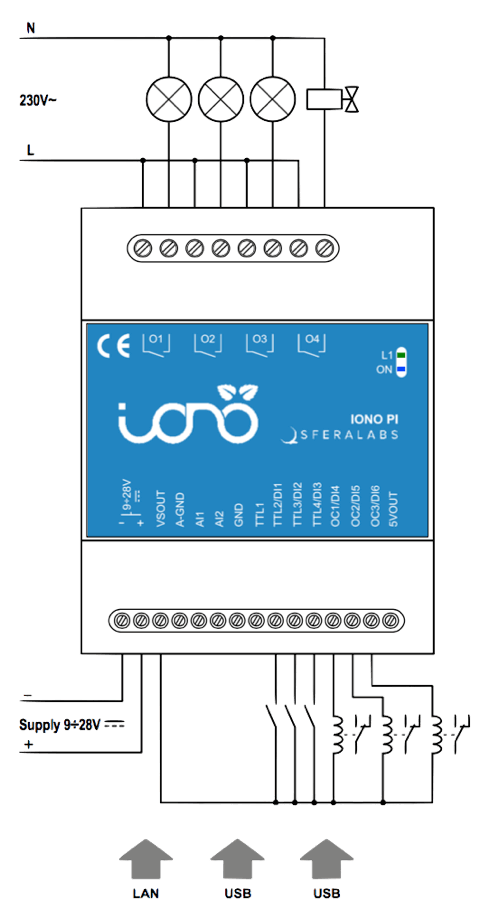 Download
IONOPI_RTC MODULE I/O PI WITH RTC
Discontinued product
Tags: IONOPI_RTC MODULEI/O PI WITH RTC, raspberry, rtc, rpi, iono, RPI, Raspberry Pi