The product is currently Out-of-Stock. Enter your email address below and we will notify you as soon as the product is available.
---
---
VS1053 - Ogg Vorbis / MP3 / AAC / WMA / FLAC / MIDI Audio Codec Chip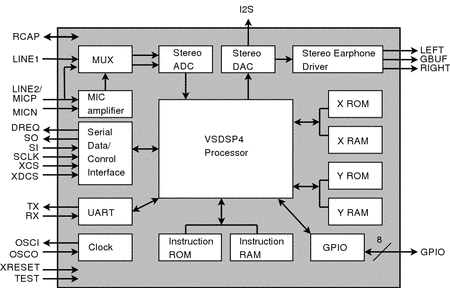 VS1053 is a versatile "MP3 decoder chip" belonging to VLSI Solution's extensive slave audio processor family. In addition to being able to decode all the most common audio formats - including the advanced features of newer AAC files - functionality of this IC can be greatly expanded just by loading a bit of extra software to its RAM memory. In addition to being able to decode all major audio formats, VS1053 is capable of recording in three different audio formats, from lossless 16-bit PCM to highly compressed, yet high-quality Ogg Vorbis files. For the best headphone listening experience the VS1053 includes EarSpeaker spatial processing which accurately simulates how a room with stereo loudspeakers would sound. This option can naturally be turned off when required. All in all, VS1053 is an easy-to-use, powerful workhorse for audio playback and recording applications.
Decodes multiple formats

Ogg Vorbis

MP3 = MPEG 1 & 2 audio layer III (CBR+VBR+ABR)

MP1 & MP2 = MPEG 1 & 2 audio layers I & II optional

MPEG4 / 2 AAC-LC(+PNS), HE-AAC v2 (Level 3) (SBR + PS)

WMA4.0/4.1/7/8/9 all profiles (5-384 kbps)

FLAC lossless audio with software plugin (upto 24 bits, 48 kHz)

WAV (PCM + IMA ADPCM)

General MIDI 1 / SP-MIDI format 0

Encodes three different formats from mic/line in mono or stereo

Streaming support

EarSpeaker Spatial Processing

Bass and treble controls

Operates with a single 12-13 MHz or 24-26 MHz clock

Internal PLL clock multiplier

Low-power operation

High-quality on-chip stereo DAC with no phase error between channels

Zero-cross detection for smooth volume change

Stereo earphone driver capable of driving a 30­ ohm load

Quiet power-on and power-off

I2S interface for external DAC

Separate voltages for analog, digital, I/O

16.5 KiB on-chip RAM for user code and data

Serial control and data interfaces

Can be used as a slave co-processor

SPI flash boot for special applications

UART for debugging purposes

New functions may be added with software and up to 8 GPIO pins
| Device ID | MP3 Decoder | Ogg Vorbis Enc. (plugin) | Ogg Vorbis Dec. | HE-AAC Dec. | WMA Dec. | Flac Dec. (plugin) | MIDI Dec. |
| --- | --- | --- | --- | --- | --- | --- | --- |
| VS1053B-L | X | X | X | X | X | X | X |
VS1053B Datasheet Download
VS1053B MP3/WAV/OGG/MIDI Player & Recorder Chip