The product is currently Out-of-Stock. Enter your email address below and we will notify you as soon as the product is available.
---
---

This experimental board, made specifically for Arduino Mega, makes the connections of the PA0 ÷ 7 port of the Arduino Mega 2560 available and distributes them via on-board jumper for the management of the digital output lines. It also takes the signals from the PL0 ÷ 7 port of the Mega 2560 to manage the digital input lines. These lines are all located on the 36-pole connector (18-pole x 2 lines) of the Arduino Mega 2560.
As regards the digital inputs, it is possible to set whether they must be active with a high or low logic level. The selection of the operating mode takes place via jumper (J1 ÷ 8) and in particular if the jumper is inserted in position 1-2, the 10 kohm pull-up resistor is inserted (in SMD and not included, see related products) and therefore the input is active at low level, while if the jumper is in position 2-3 the 10 kohm pull-down resistor is inserted (in SMD and not included, see related products) and therefore the input is active at high level.
A contact point has been set up for each input on the CN5 connector to be used, via the jumper cables, to activate the corresponding input or + 5V if active high or GND if active low. We have therefore prepared two other connectors of 8 poles each, marked CN1 and CN2, to which we have brought the + 5Vcc and GND lines respectively. In this way, for each 63 of the eight inputs there is a corresponding point + 5Vcc or GND to be used for the simulation of the change in state on the input.
As far as the outputs are concerned, these have simply been reported on the CN4 connector together with the + 5V and GND line necessary to power the auxiliary relay boards to be used for this application.
To complete the demo board we have also reported the free lines, present on the countless other connectors of the Arduino Mega 2560, in order to give the end user the opportunity to use the function associated with them.
There is also a prototype development section where users can assemble any component they like to develop their own applications. The pitch between one pad and another is the usual 2.54 mm. This zone offers over 315 individual pads, plus a reduced series of pads to which the + 3V3, + 5V and GND lines have been brought. Dimensions (mm): 101x58x1,6. For connectors see related products.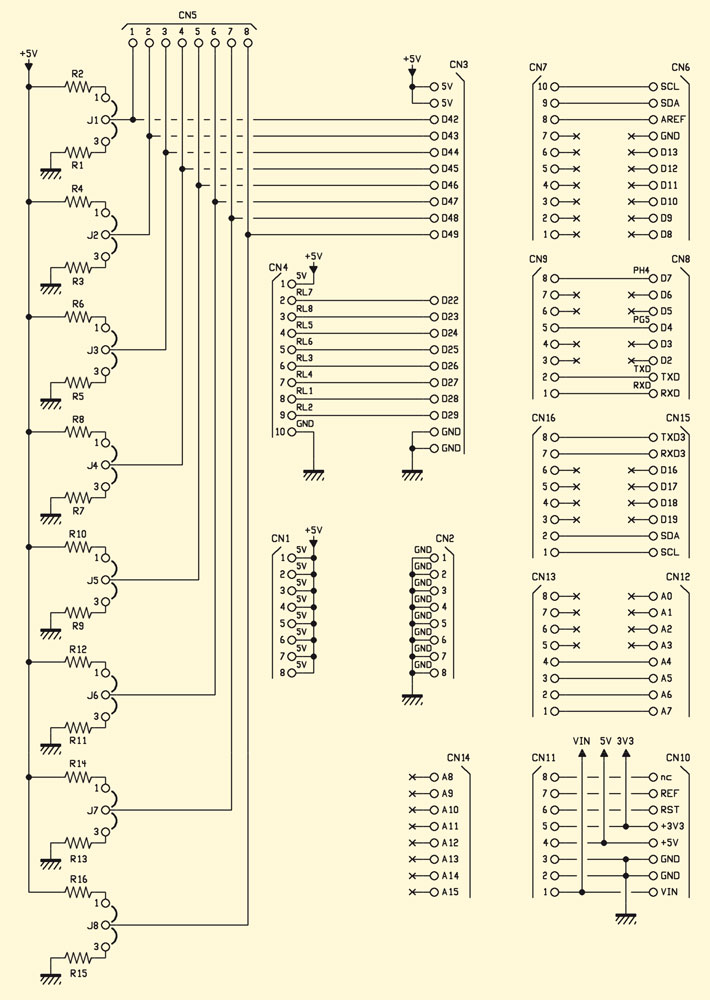 Arduino Mega Protoshield
Product Code: 7200-MEGAPROTO
Availability: In Stock