The product is currently Out-of-Stock. Enter your email address below and we will notify you as soon as the product is available.
---
---
Savemychild is an alarm system that, installed in your car and powered by the electrical system of the latter (through a USB output voltage reducer - not included), warns us via an SMS and a voice call if we move away without bringing with us the child. It consists of an electronic card based on GSM cell phone and a sensor composed of some low-profile buttons mounted on a base to be placed under the seat cover. If the buttons are pressed (so the child is seated ...), the circuit also ensures that the vehicle is stopped by a triaxial accelerometer; in the affirmative case and after the set time has expired, it sends the alarm SMS to the driver's phone and makes a buzzer sound. Also make a call to the same mobile number and any other (maximum 8 numbers), so that parents, friends etc. they can call the driver and check what is happening.
The package includes: the basic card with GSM SIM800 module, the GSM antenna, the baby presence sensor, the triaxial accelerometer MMA8452 and connection cables between the base board and the presence sensor.
The following products are not included (see related products): the 3.7V / 500mA lithium battery (only required if the cigarette lighter is connected to the positive key) and the plastic container.
N.B. The base board and the presence sensor are supplied already assembled. It is only necessary to carry out the wiring between the base board and the presence sensor.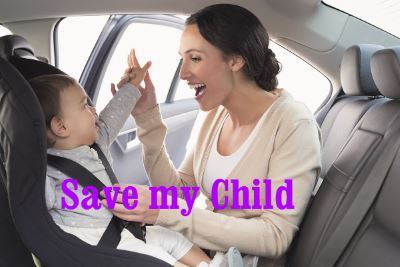 Positioning of the plate containing the buttons, which for the comfort of the child should go under the covers
Table of commands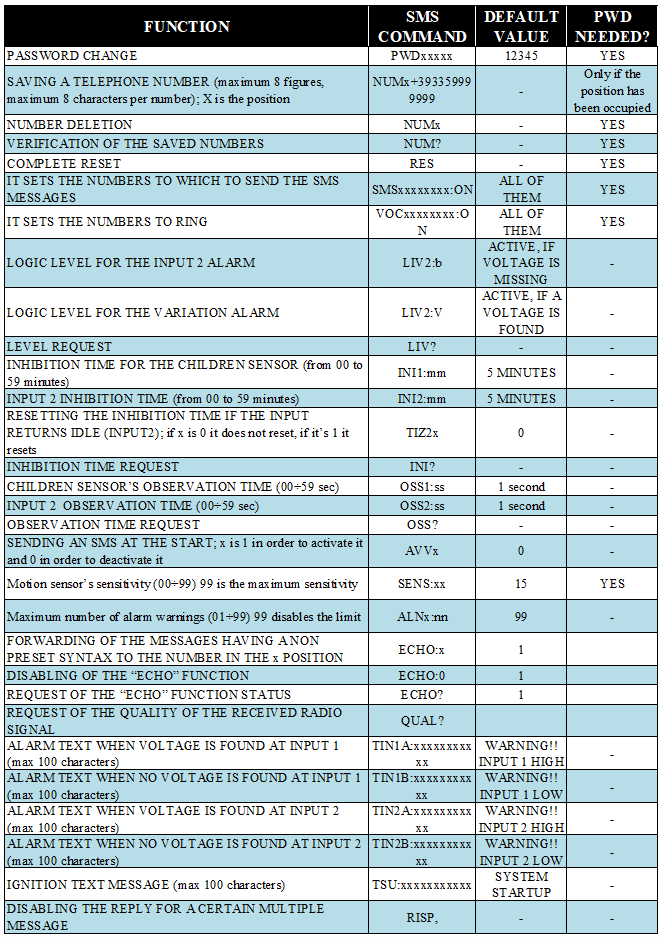 Electrical scheme basic card (Basic circuit diagram)
click on the image to enlarge
Wiring diagram of the module containing the mobile phone
click on the image to enlarge
Technical features
GSM / GPRS module: SIM800C quad-band (850/900/1800/1900 MHz)
GPRS multi-slot class 10/8
GPRS mobile station class B
Compliant to GSM phase 2/2 +
- Class 4 (2 W @ 850/900 MHz)
- Class 1 (1 W @ 1800/1900 MHz)
Power supply: 5 VDC
Microcontroller programmed: PIC18F46K20-I / PT
Triaxial accelerometer MMA8452
Child Life-Saving Car Seat Alarm
Tags: Child Alarm, Alarm, Car Seat Alarm