USB to Serial converter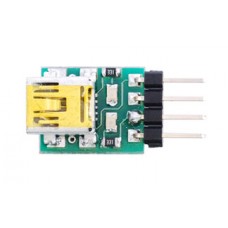 Price: 12.50€
5 or more 11.88€
10 or more 11.25€
50 or more 10.00€
100 or more 9.38€

This is a converter module USB-Serial TTL using the FTDI FT232RL IC. It can be used for general applications requiring a USB connection.
The module is very compact (just 25 x 12 x 8 mm). Terminal: 4-pin with 2.54mm pitch to implement a USB connection in your application easily and quickly. It is powered by the same USB port and allows you to set up, with a simple bridge, the voltage level used for the line TX-RX (3.3V or 5V).
This board has TX and RX LEDs, so you can see serial traffic on the LEDs to verify if the board is working.
Write a review
Your Name:
Your Review:
Note: HTML is not translated!
Rating:
Bad
Good
Enter the code in the box below:
Feed Display:
Kickstarting Lenzhound a Wireless Lens Motor Control System with Opensource Software
Wed, 04 Dec 2013 02:05:23 -0800
Ok, this is not Open Source Hardware, but the firmware is opensource and it's an amazing project for people working in ...
An Open Source Arcade Controller is on Kickstarter
Tue, 03 Dec 2013 03:02:33 -0800
Gamers allover the world unite! This is the final project for a customizable game controller for old Arcade style replicas: and ...
An Open Source Digital Katana with Real-Time Tracking and SDK
Mon, 02 Dec 2013 02:08:00 -0800
Ok, this is a kinda niche project but the video is too funny and we were enthusiastic to help this guy that created an open ...
Tiny and Cute Open source 3D printer Smartrap is on Indiegogo
Sun, 01 Dec 2013 02:00:02 -0800
Ok, there is plenty of open source 3Dprinters (starting from our amazing, super professional and stable 3Drag) but this printer ...
Circuit Scribe helps you Draw Circuits Instantly
Sat, 30 Nov 2013 02:23:44 -0800
Ok, this is not opensource but it's a powerful tool for creatives and, as the kickstarter page explains, "with ...